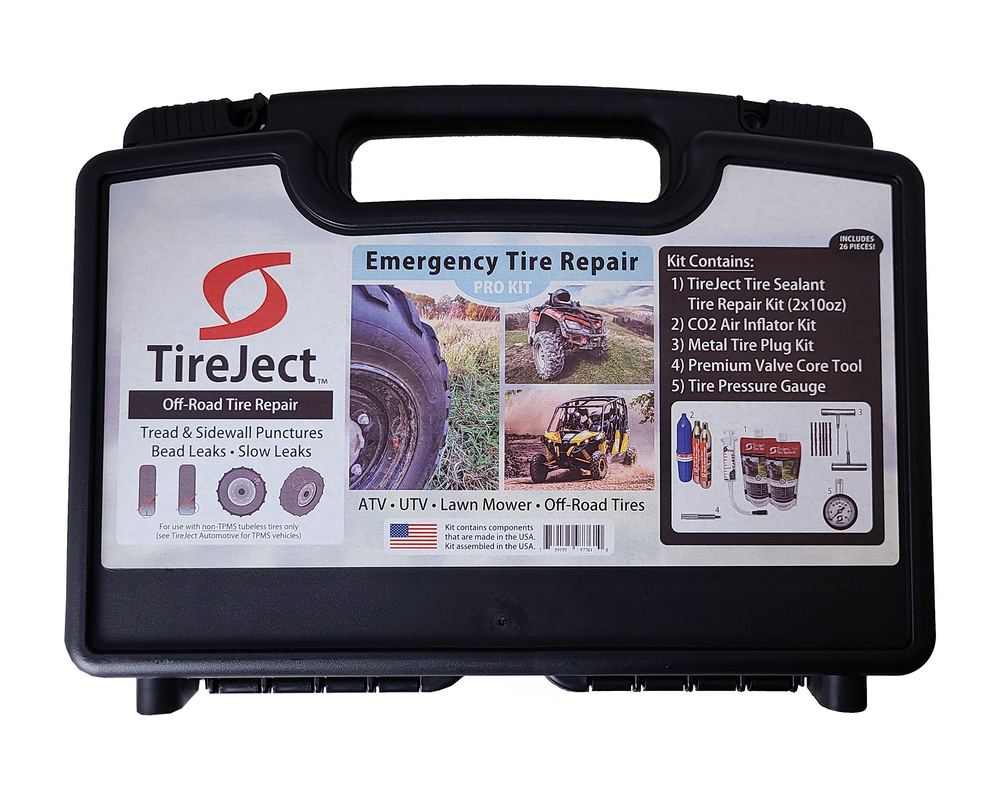 Description Summary:

Our All-In-One Tire Repair Tool Kit is above and beyond the competition with the best tire repair options available and everything you need to repair virtually any flat tire trail side! No power required, No batteries to charge and it's easy to use!
Never get stuck on the trail with a flat tire!

Includes everything needed to fix a flat tire while on the trail

Easy to carry flat tire insurance policy in a durable carry case!
Our All-In-One Off-Road Tire Repair Tool Kit is ready-to-go, easy to carry and includes everything you need to fix a flat tire from anywhere:
Super sized 60g CO2 Inflator OR Electric Inflator
20oz of TireJect™ Off-Road Tire Sealant
2oz Sealant Injector for installation
Tire plug kit to repair larger punctures
Tire pressure gauge.
Ride prepared with the TireJect™ All-In-One Repair Tool Kit and never get stuck with a flat tire again!
Play 5-in-1 Video
TireJect
has a 5-star rating (★★★★★) and is the highest-rated Tire Sealant on the market. Leaks and punctures are instantly sealed; our formula contains super strong Aramid fibers and recycled rubber tire particles that wedge into the leak and the liquid rubber is what bonds to the tire for a permanent seal.
Off-Road 5-in-1 Sealing Benefits:
1 Punctures up to 3/8"
2 Tread punctures
3 Sidewall punctures
4 Bead leaks
5 Minor tire dry rot*
TireJect™ is not your standard off the shelf tire sealant.
Our Tire Sealant is engineered with liquid rubber, recycled tire particles and Dupont™ Kevlar® Fiber to outperform our competitors in every aspect. With TireJect you get superior sealing benefits, easy installation and easy clean-up. If you have tried
old traditional tire sealant
without success we understand that you are skeptical. We have specifically designed TireJect™ tire sealant to solve the problems of traditional tire sealants. This means no more tire balance issues, no more mess, just tire sealant that works.
Use 75% less than competing brands
(compare competing brands).
Easy to install and water solube for easy clean up
Low viscosity and will not cause vibration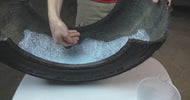 Watch our video
to learn more about the benefits of TireJect™ Technology
TireJect™ Technology
TireJect's patent pending tire sealant formula contains natural liquid rubber, recycled rubber tire particles, and aramid fibers (see material contents). The active sealing particles and fibers plug punctures and leaks from the inside while the liquid rubber bonds to the tire to form a permanent seal.
Compatible with all off-road tubeless tires:
ATV, UTV, Side by Side (SxS), golf cart, utility trailer, lawn mower, tractors, farm equipment, construction and heavy equipment, etc.
Install TireJect Valve Cap
Anyone can install TireJect™ in only minutes.
Deflate the tire and remove the valve core with the included tool.
Attach the Sealant Injector.
Open and pour TireJect™ tire sealant into the injector body.
Use the injector plunger to clear the injector.
Re-install the valve core with the included tool.
Re-inflate the tire
and
install the Red TireJect Valve Cap to easily identify the tires that have TireJect installed.
Drive or rotate the tire for 5 minutes to allow the tire sealant to cover all areas of the tire.
Play Installation Video
| Inflator Comparison Chart | TireJect CO2 Inflator | Electric Air Compressors |
| --- | --- | --- |
| Inflation Speed | 30 Seconds | 5-10 Minutes |
| Self-powered (no power source needed) | | |
Our Tire Plug Tool Kit is easy to use and compatible with TireJect Tire Sealant. Use with TireJect Tire Sealant to seal larger holes and ensure a strong, durable seal.
What is TireJect Tire Sealant made with?
Natural liquid rubber*
Recycled rubber tire particles
High strength Aramid fibers (Dupont™ Kevlar®)
TireJect is Made in the USA
TireJect is 100% safe for your tire, rim and valve stem
No harsh chemicals
Non-hazardous, Non-corrosive, Non-toxic
Will not clog the valve stem
Off-Road Tire Sealant
Formulated for longer life to protect off-road tires from flats.
Seals larger punctures up to 3/8" in off-road tires.
Do not use with TPMS sensors, use our On-Road Automotive Tire Sealant for Cars, Trucks, SUVs
What are Aramid fibers?
Aramid fiber is a high strength synthetic fiber most commonly known as Dupont™ Kevlar®

Side-by-Side, ATV / UTV
Repair one tire up to 27x11
Use two pouches for tires up to 32x11

Lawn mower/ Zero turn mower
Repair one rear tire up to 24x12
or Repair two front tires

Golf cart
Repair two tires up to 18x8
Compact Tractor
Repair one tire up to 20x14
Skidsteer
Use 2x 10oz pouches for tires up to 14x18

Wheelbarrow, handcart, small tires
Repair up to 4 tires

Larger tires? - Tractors, Heavy equipment, etc.
Use multiple pouches or the gallon tire repair kit to repair larger tires
Use Dosage Calculator