TireJect™ is not your standard off the shelf tire sealant.
We engineered our formula with liquid rubber, recycled tire particles and Aramid fibers to outperform our competitors in every aspect; starting with superior puncture performance and ending with easy clean up. If you have tried old traditional tire sealant without success we understand that you are skeptical. We have specifically designed TireJect™ tire sealant to solve the problems of traditional tire sealants. This means no more tire balance issues, no more mess, just tire sealant that works.
Bead Leaks Slow Leaks Punctures up to 3/8" Tread and Sidewall Tire dry rot*
TireJect™ will fix an existing flat tire and prevent flat tires for up to 24 months* after application. Our unique fast flowing, low viscosity tire sealant has full tire coverage with
75% less tire sealant per tire
for easier installation and better performance than any
competing tire sealant
.
TireJect™ is the only tire sealant made with liquid rubber, active sealing particles and Aramid fibers. The rubber particles and Aramid fibers clot the puncture or leak and the liquid rubber is what bonds to the tire for a permanent seal.
*Actual tire sealant life span may vary depending on vehicle speed, frequency of use and climate. See details in FAQ for more information.
Not all tire sealants are created equal
Research
tire sealant reviews
and you will find that no competing brand can compare to TireJect™ Tire Sealant.
Many of our customers that previously used competing brands found TireJect™ because the competing brands failed to seal their tire. Don't make that same mistake, choose TireJect to save yourself time and money.
Buy TireJect™
TireJect™ VS Competing Brands
Read customer reviews
Use 75% less than competing brands
(compare competing brands).
Easy to install and water solube for easy clean up
Low viscosity and will not cause vibration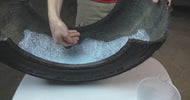 Watch our video
to learn more about the benefits of TireJect™ Technology
TireJect™ Technology
TireJect's patent pending tire sealant formula contains natural liquid rubber, recycled rubber tire particles, and aramid fibers (see material contents). The active sealing particles and fibers plug punctures and leaks from the inside while the liquid rubber bonds to the tire to form a permanent seal.
Compatible with all off-road tubeless tires:
ATV, UTV, Side by Side (SxS), golf cart, utility trailer, lawn mower, tractors, farm equipment, construction and heavy equipment, etc.
Make your tire, literally, bulletproof
Do not attempt this at home! TireJect is the most effective tire sealant on the market - we have made all sorts of puncture demo videos, but this shows it all! Seal any leaks, punctures and even bullet holes!
Driving over a bed of nails
If you see us at a riding event, we are still riding on this tire. We 100% trust our tire sealant and it permanently seals any air leaks from punctures up to 3/8" in the tread or sidewall and even seals bead leaks or dry rot.
What is guaranteed?
Any type of leak or puncture in a tubeless tire caused by nails, screws, thorns, barbed wire, etc... as long as its from an object 3/8"
Punctures or leaks can be in any location; tread or sidewall
Slow leaks from bead as long as tire bead and rim are not damaged
Step 1:
Deflate tire & remove valve core
Step 2:
Attach Sealant Injector, Pour & Inject
Step 3:
Inflate tire & rotate
Easy clean up with cold water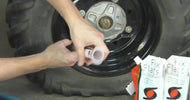 Watch our installation video:
Easy installation with the TireJect sealant injector.
What is TireJect Tire Sealant made with?
Natural liquid rubber*
Recycled rubber tire particles
High strength Aramid fibers (Dupont™ Kevlar®)
TireJect is Made in the USA
TireJect is 100% safe for your tire, rim and valve stem
No harsh chemicals
Non-hazardous, Non-corrosive, Non-toxic
Will not clog the valve stem
Off-Road Tire Sealant
Formulated for longer life to protect off-road tires from flats.
Seals larger punctures up to 3/8" in off-road tires.
Do not use with TPMS sensors, use our On-Road Automotive Tire Sealant for Cars, Trucks, SUVs
What are Aramid fibers?
Aramid fiber is a high strength synthetic fiber most commonly known as Dupont™ Kevlar®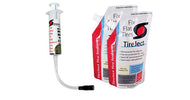 Buy your first TireJect kit today - it includes everything you need to fix and prevent flat tires.