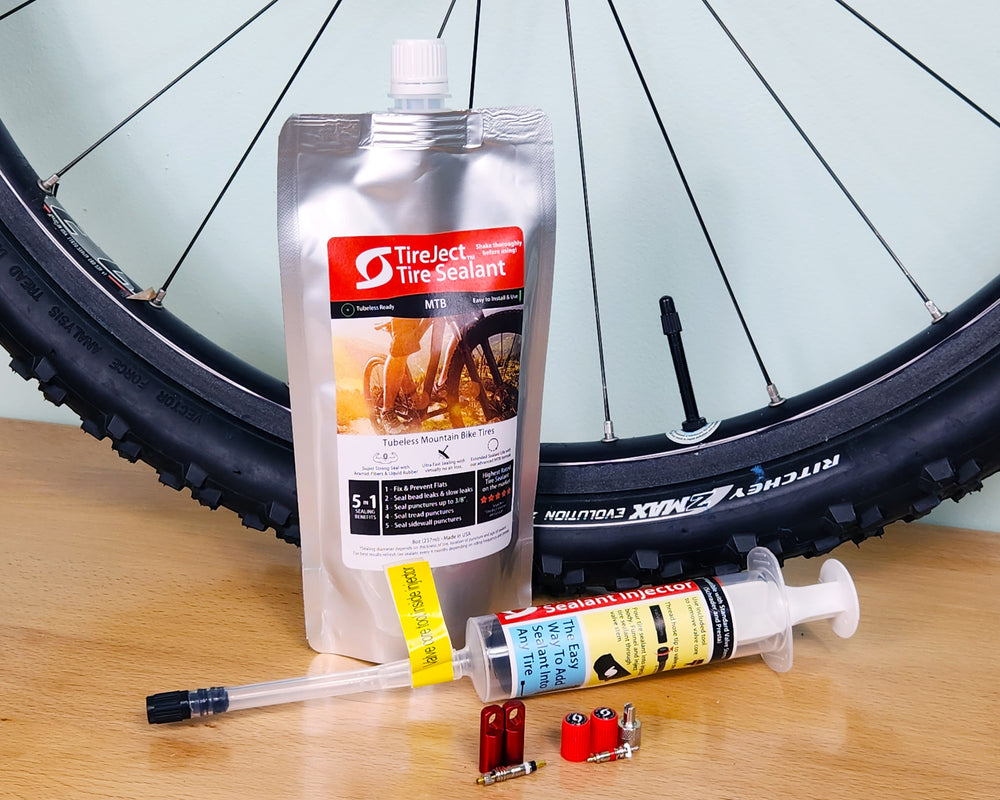 Description Summary:

For Tubeless & Tubeless Ready Mountain Bike Wheels

Seal Punctures up to 3/8" in most MTB tires

Super Strong & Permanent Seal made with Aramid Sealing Fibers & Liquid Rubber

Ultra Fast Sealing with virtually no air loss

Low viscosity formula that is easy to install directly through the valve stem (Presta & Schrader compatible)

Extended sealant life with our advanced MTB formula

Made in the USA with environmentally friendly materials!
#1 Tire Sealant Kit for Tubeless and Tubeless Ready Mountain Bike Tires! TireJect MTB will permanently FIX an existing flat tire and PREVENTS flat tires. TireJect is the only MTB tire sealant that contains active sealing fibers that are uniformly distributed within the sealant for superior sealing capabilities. The aramid sealing fibers and recycled rubber tire particles clot together to form a super strong aramid fiber plug while the liquid rubber bonds to the tire for a permanent seal.
MTB Tire Sealant Features
Seal Punctures up to 3/8 inch*
Permanent Seal with Liquid Rubber
Ultra Fast Sealing with virtually no air loss
Extended sealant life for longer protection
Made with Super Strong Aramid Fibers & granulated rubber particles
Puncture Demo
Escaping air pressure forces rubber particles and Dupont™ Kevlar® Fiber to wedge into the puncture and the liquid rubber cures to the tire to form a permanent seal that will never leak again. This unique sealing process is what set's TireJect apart to seal and protect all areas of the tire.
Install TireJect Valve Cap
Anyone can install TireJect™ in only minutes.
Deflate the tire and remove the valve core with the included tool.
Attach the Sealant Injector.
Open and pour TireJect™ tire sealant into the injector body.
Use the injector plunger to clear the injector.
Re-install the valve core with the included tool.
Re-inflate the tire
and
install the Red TireJect Valve Cap to easily identify the tires that have TireJect installed.
Drive or rotate the tire for 5 minutes to allow the tire sealant to cover all areas of the tire.
Play Installation Video
Easy installation and measurement for exact sealant levels every time with the included Tire Sealant Injector!
Pro-tip when mounting new tires:
You can also use the injector as a graduated cylinder to measure and pour sealant into the tire casing. Fold and hold the hose to the side of the injector, pour sealant into injector body and pour into tire.
For tire widths 2" - 2.4"
4oz per tire
For tire widths 2.5" - 2.9"
6oz per tire
For tire widths > 3"
8oz per tire
TireJect MTB will last up to 7 months, but the lifespan depends on your climate and riding frequency. Basically, the more you ride and the hotter or dryer the climate, the lower the life span. This just means you will want to check and freshen up your sealant on a more regular basis to ensure your tires are protected from flats!
What is TireJect Tire Sealant made with?
Natural liquid rubber*
Recycled rubber tire particles
High strength Aramid fibers (Dupont™ Kevlar®)
TireJect is Made in the USA
TireJect is 100% safe for your tire, rim and valve stem
No harsh chemicals
Non-hazardous, Non-corrosive, Non-toxic
Will not clog the valve stem
Off-Road Tire Sealant
Formulated for longer life to protect off-road tires from flats.
Seals larger punctures up to 3/8" in off-road tires.
Do not use with TPMS sensors, use our On-Road Automotive Tire Sealant for Cars, Trucks, SUVs
What are Aramid fibers?
Aramid fiber is a high strength synthetic fiber most commonly known as Dupont™ Kevlar®